When I made this and posted here, I had a question at the end...How could I storage my daughter's headbands? ( now that the wreath solved the bows problem....)
I had some suggestions like Fonda from Southern Scraps that mentioned to me people were using cans.
So I googled away (!) and found this , at Plucky Momo..humm... I knew I had found the solution!
I believe many of you had one of this home, luckily I had! Add some paper, ribbon and 2 layers of modge pod...
Headbands storage is "in the house"!
And there is space to keep some inside as well!
Perfect! And thanks for the help!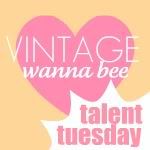 Crafts for under twenty somethings/