I know..I have been absent from my blog for too long...Sofia has been enjoying summer camps for the last 2 weeks ( a ballet camp last wee, a Bible camp this week, and next week Camp Hollywood, a performing arts camp) and I am using my time to do everything under the sun but blogging...do not be mad at me, ok?
I have some post ready tough, cuz you know, I stop blogging but I do not stop crafting!
I was featured today and I am elated!!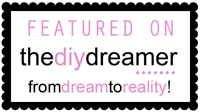 Thanks, Christine!!!