I saw these bangles at Walmart the other day, 3 for 3 dollars, and decided to buy to make this:
A statement necklace...not for everybody, I know.. some will hate, some will love, but I think sometimes we do need some SHOCK piece in our wardrobe, don't we girls?
They are small for bangles..huuuge for necklace rings, exactly what I wanted!!
Four big jump rings ( from Michaels) and one silver chain
Open the jump rings sideways, not front/back direction
Connect the rings to the chain and your statement piece is ready !
I can picture it with a "black dress", a turtle neck or a nice white blouse, uh? Today I am not "presentable"-bad hair day, ketchup stained shirt, eyebrows needing some TLC (LOL) but tomorrow I will take a picture of "moi" wearing it!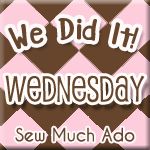 Show and Tell at the http://www.bluecricketdesign.net/